Is it your year with the kids? Scrambling for something to do that's wholesome and doesn't require you entertaining them? Don't burn the turkey or leave them sitting there wishing they were with your ex…Take their soon to be happy asses up the hill & go stay at Keystone for the holidays! They have the "snow forts" primed and have all the sledding, tubing & other mind-numbing activities for the kiddos… take their words for it:
"This year we're serving up fun for the whole family, with (…drum roll please…) not one but TWO on-mountain Snow Forts! That's right, we're not only bringing the magic of the Snow Fort back — we're doubling it.
Don't miss the World's LARGEST mountaintop snow fort at Dercum Mountain! The snow fort is the perfect stop before heading to a mountaintop tubing session, or is a fun way to enjoy our beautiful mountain while taking a break from the slopes. The nearby Summit House offers breakfast, lunch and snacks and hot chocolate for a fun afternoon of adventure.
After your mountaintop adventure, head down towards our Mountain House base area and check our new Snow Fort for the kids to play while the parents pop into the Last Lift Bar for some après."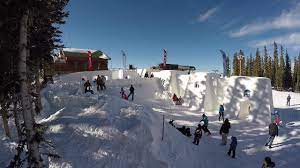 So there you have it.. you can still catch your fade and they can be entertained. Channel your inner-Chevy Chase & polish off that sled/tube and head on up the hill. It won't cost nearly as much as renting ski passes unless you drink top shelf…
Not to mention, it has it been dumping snow for the better part of the week and that horrendous cold front prolly scared away the transplants who were mulling it over for the weekend.
If you want more details and less patronizing- here is their link about the family friendly activites.